Janick Robert Gers (pronounced YA-nik Gerz) (born January 27, 1957 in Hartlepool, England) is an English musician and one of three guitarists for Iron Maiden.
He is one of the main songwriters for Iron Maiden. His father, Bolesław, was an officer of the Polish Navy.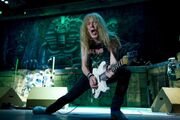 Gers was the lead guitarist of the band White Spirit before joining Gillan, a group formed by former Deep Purple vocalist Ian Gillan. After Gillan disbanded, he joined Gogmagog (which included former Iron Maiden members vocalist Paul Di'Anno and drummer Clive Burr. Gers also performed with other artists including former Marillion vocalist Fish. In 1990, he played guitar on the first solo album of Iron Maiden vocalist Bruce Dickinson, Tattooed Millionaire. During the recording of the album he was asked to join Iron Maiden in place of departing Adrian Smith. He has remained with the band ever since, even after Smith rejoined the band in 1999.
Gers' playing style uses heavy distortion and is noted for having a very raw tone. He prefers alternate picking instead of playing legato using hammers and pull-offs.
Gers is also left-handed although he plays guitar right-handed; as seen at the "Rock In Rio" DVD signing autographs.
Gers' main influences are Ritchie Blackmore, Jeff Beck and Irish blues guitarist Rory Gallagher. He is noted for his energetic stage presence. He can often be seen bouncing up and down and occasionally does tricks with his guitar, such as spinning it around his body while playing, or throwing it into the air, catching it.
Musical equipment
Edit
Gers is a long time proponent of the Fender Stratocaster. His Stratocasters are typically black or white with rosewood fingerboards. He uses Seymour Duncan JB Jr. (currently) or Hot Rails (early 1990s) pickups. His favourite guitar over the years has been a black Fender Stratocaster, equipped with JB Jr. pickups. Gers uses four different Fender Stratocasters and also a Gibson Chet Atkins semi-acoustic model for songs such as "Dance of Death" and "Dream Of Mirrors". Like his bandmate Dave Murray, Gers currently uses the Marshall JMP-1 preamp through a Marshall 9200 (discontinued) poweramp. He uses Ernie Ball Regular Slinky Nickel-wound guitar strings (10-46).
Discography
Edit
Iron Maiden

Main article: Iron Maiden discography
Bruce Dickinson
White Spirit
Gillan
1981: Double Trouble
1982: Magic
Gogmagog
Guest Apprarances
Edit
Fish - *1990: Vigil in a Wilderness of Mirrors
External links
Edit
Community content is available under
CC-BY-SA
unless otherwise noted.