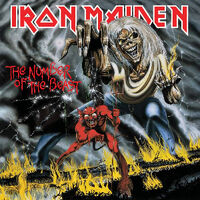 "Gangland" is a song by Iron Maiden, written by drummer Clive Burr and guitarist Adrian Smith. It is the seventh track from the 1982 studio album The Number of the Beast.
Lyrics
[
]
Shadows may hide you,
But also may be your grave
You're running today,
Maybe tomorrow you'll be saved
You pray for daylight,
To save you for a while
You wonder if your children,
Will face the killer's smile

Dead men, tell no tales
In Gangland, murder's up for sale
Dead men, tell no tales
In Gangland, where jail birds die

Face at the window,
Leers into your own
But it's only your reflection,
Still you tremble in your bones
How long can you hide?
How long till they come?
A rat in a trap,
But you've got to survive

Once you were glad,
To be free for a while
The air tasted good,
And the world was your friend
Then came the day,
When the hard times began
Now you're alone,
But alive for how long?

Dead men, tell no tales
In Gangland, murder's up for sale
Dead men, tell no tales
In Gangland, where jail birds die

Ah, c'mon
A knife at your throat,
Another body on the pile
A contract to keep,
And it's service with a smile
Murder for vengeance,
Or murder for gain
Death on the streets,
Or a blackened out jail

Dead men, tell no tales
In Gangland, murder's up for sale
Dead men, tell no tales
In Gangland, where jail birds die

Dead men, Gangland, murder
In Gangland, tell no tales
Length
[
]
Personnel
[
]
 

(1982)
Album
Songs
Personnel